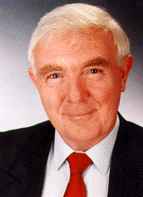 Listen to Brendan Walsh for a few minutes and you will easily understand why this Irishman personifies communication skills. For more than 25 years, audiences have been captured by Brendan's brogue. The former host of a record-creating, top rating FM radio show, he generates the same high interest in a live audience that he did over the airwaves.
What makes Brendan such a sought-after keynote speaker is his engaging sense of humour, which does more than entertain. According to his clients, (both national and international), it is his way of involving an audience, that makes his message really memorable.
In audited response surveys, comparing conference speakers, Brendan consistently emerges with the highest scores for content, interest, clarity and delivery.
His unique style of presenting has led to four annual tours of the United States, speaking at 50 venues.
Why not make your next conference come alive, with Brendan Walsh's warmth and enthusiasm, as your keynote presenter?
Click here to hear what clients said about Brendan Walsh - the Presenter